wSmart – Network Administration in Batumi (Georgia)
wsmart is operated by Batumi Tskali and Kobuleti Tskali, both in Georgia. In Batumi Tskali wsmart is operated since 2009, undergoing different customization and development processes. In 2012 wsmart the system won the IWA PIA (International Water Association, Project Innovation) Award. Thanks to its flexibility and online availability, wsmart allows for fact based management decision making, and hence providing substantial assistance to the business development of the utility Batumi Tskali. This particularly regards customer satisfaction and customer payment behavior as well as water supply network management optimization by proper management of the district metered areas (DMAs), based on real time data, allowing for fast maintenance reaction and loss detection.
Since 2009 the number of customers was increased from 48,000 to 62,000. Overall a population of 200,000 inhabitants is supplied in Batumi. During the same time collection efficiency (payment of invoices) increased from below 30% to 100%. Revenues have increased 4 fold during the same time. Commercial and technical losses in the water supply network were reduced and are maintained on a level of < 30%.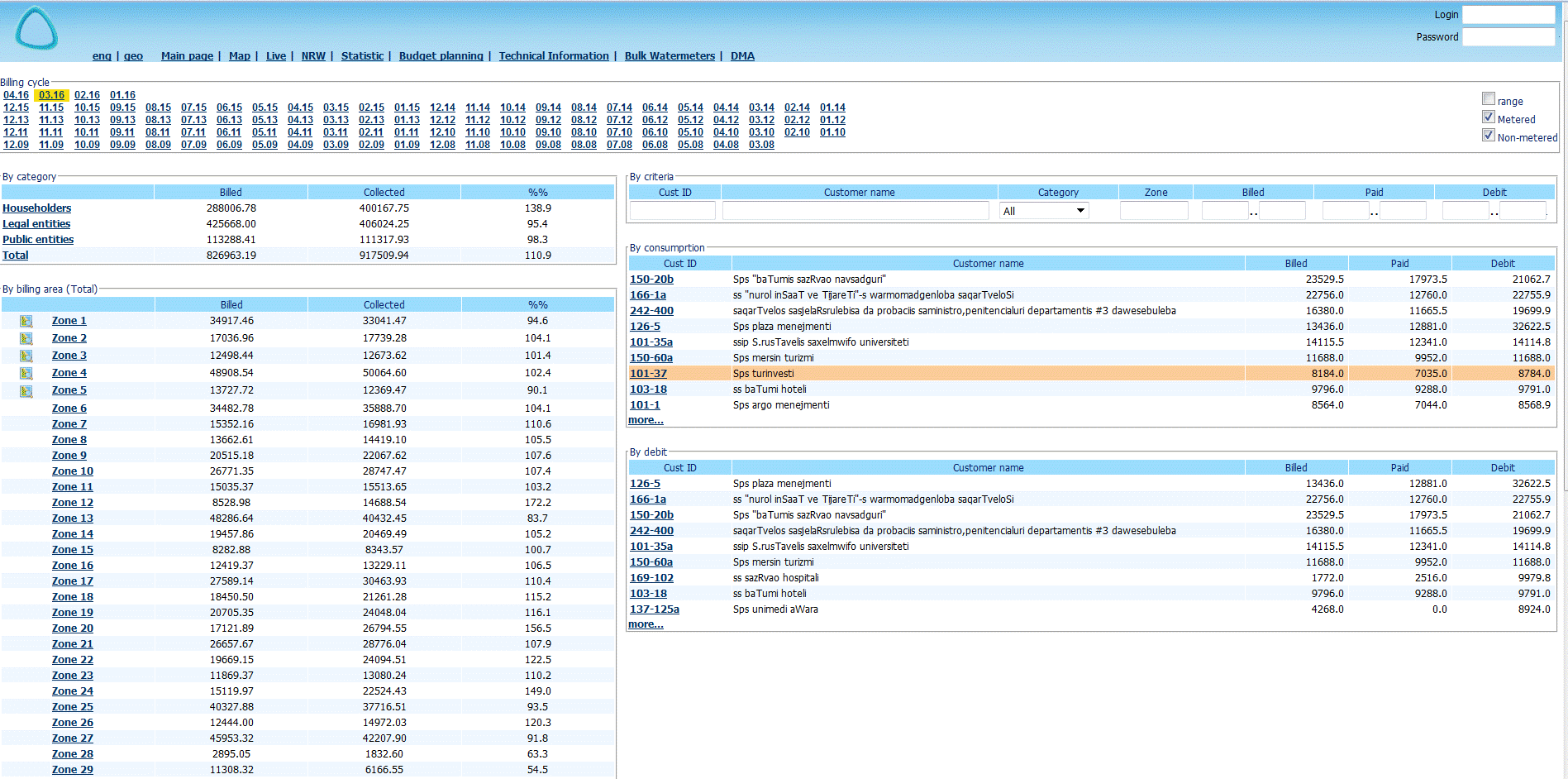 wSmart – Network Optimization in Brazil
wSmart – Network Optimization has been introduced in two Brazilian States for optimization of small and decentralized rural water supply and waste water systems.
The software is applied in several SISARTM (Sistema Integrado de Saneamento Rural) from the state of Piauí and Ceará to evaluate the performance of their system as well as to provide the best technical solution for extension of the service. The tool is especially designed for small and mid-sized utilities, which often lack the means to engage external specialists and consultants, but nevertheless want to improve the performance of their network.
The results from the hydraulic simulation showed that not all the systems were operating under optimal conditions. With the help of the Genetic Algorithm some changes were suggested in the pipeline that improved the pressure within the network and the pumping time, resulting directly in Energy Savings.
With wSmart – Network Optimization future scenarios can also be assessed. From the ratio of population growth can be forecasted short-, mid-, and long-term water demand and evaluate the capacity of current system to hold the new consumption. Related to this, it was diagnosed the weakness to maintain quality service in a long-term scenario with a remarkable deficit of water. The optimization module explored several solutions providing as result the construction of a new water tank.
Experience shows that users do not necessarily need to be expert modelers to manipulate the application. The integrated interpretation of the result in economic terms is going beyond the pure engineering calculations, allowing everyone to understand the meaning behind the outcome.